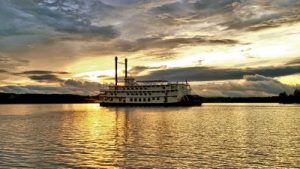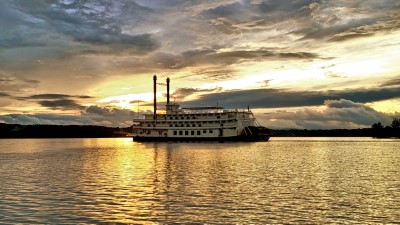 When you live in a vacation town the fun never stops!
My wife Amy and I along with three of our five children arrived home to Branson, Missouri the other day from a ten-day trip to Colorado and Oklahoma.
The day we returned, we had an appointment set on a private boat cruise on beautiful Table Rock Lake, at sunset, with fireworks popping all around. After a five-hour drive from Oklahoma we found ourselves standing on the dock at a marina at Big Cedar Lodge ready to board. My wife said, "It's like we returned from vacation to go on vacation." 
Living in a tourist destination like Branson, Missouri provides non-stop opportunities for fun, entertainment and relaxation. Over the years we have lived in several "normal" places like the suburbs of Dallas, Kansas City and Detroit, so we understand the typical lifestyles those localities offer. The predictable, "What do you want to do tonight," is followed by the even more predictable, "How about dinner and a movie?"
We ask that question in our family too, but the answers are vastly different in our hometown. 
WHAT SHOULD WE DO TODAY?
The options are endless, and after living here for the past six years we still haven't run out of things to do. (I always find it humorous when people wonder if there's enough to do here over a one-week vacation.)
On any given day or night, wondering what we could do is answered with innumerable fun-packed opportunities. The most difficult part is choosing from them all!
As season pass holders at Silver Dollar City, a short five-minute drive puts us right in the middle of this special place. Walking around, smelling the delicious food, watching the happy people, viewing the beauty of the Ozarks, listening to phenomenal musicians, enjoying remarkable shows and riding world-class rides is at the top of our list when thinking about things to do as locals in Branson. It's not uncommon for us to visit Silver Dollar City three or four times a week.
A day at one of the lakes is an exceptionally good day indeed. Whether you are swimming, fishing, tubing, boating, water skiing, scuba diving, cruising on the Showboat Branson Belle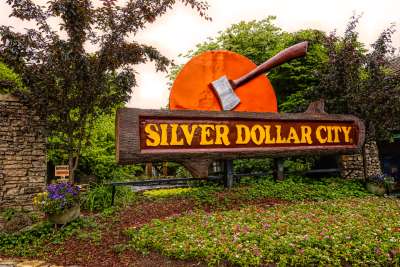 or simply enjoying the beauty from the banks, Table Rock Lake and Lake Taneycomo provide world-class fun and refreshing. 
From there the choices multiply by the hundreds. From mini-golf to attractions like Wonderworks, The Aquarium at the Boardwalk and The Butterfly Palace to water parks to incredible shows to golf, hiking, shopping, amazing restaurants and, yes, even movies, you will never run out of things to do.
Add to this the many more amazing places to visit within an hour or so like the unparalleled Buffalo National River and your options multiply yet again. Another hour or two gets you into larger cities like Kansas City, St. Louis, Little Rock, Tulsa and Oklahoma City, so you have the very best of both worlds at your disposal.
WHY SO SERIOUS?
Amy and I have determined there's no place we'd enjoy living more than Branson, but if we had to move it would have to be to another tourism epicenter. Gatlinburg, Orlando and Myrtle Beach are a few localities we've considered.
As we were driving home from vacation (to our never-ending Branson vacation) we wondered why in the past we were so serious. Go to work, mow the lawn, pay the bills, watch some television, go to bed and do it all over again. Truth be told, we've always been more adventurous than that, but it wasn't until we moved out of suburbia that we realized there was so much more! 
Yes, we still make sure the lawn is maintained and that our bills are taken care of. We run businesses and do the more serious stuff every day. We are also invested in ministry projects and I find myself writing several days a week for various publications. Life goes on and the mundane stuff happens. But, after that, the party begins!
When we were deciding what niche our YouTube channel should be centered on, it was obvious that it had to be vacation oriented. The result was TPF! Travel which stands for Trips, Places and FUN!
We come alive when we are at theme parks, water parks, shows, hiking on trails, on our scooters in exciting new lands and discovering amazing new restaurants, attractions and places to visit. Living in a place like Branson, Missouri (the best places in the nation to live, in our opinion) makes all of that easy to accomplish. The videos on our channel reveal just how much fun we are having and we believe it shines through to our friends and fans.
The thought of living anywhere except an entertainment-focused region makes us a little sad. Living in Branson keeps things exciting, and when we travel we aren't disappointed when the vacation ends. All that means is our year-around vacation in Branson is set to continue!