Posts Tagged 'branson missouri shows'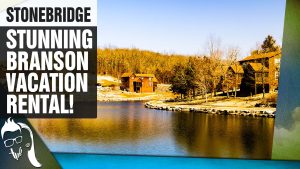 Unforgettable Lodging in Branson Missouri! | Stonebridge
Base your Branson vacation from beautiful Stonebridge Resort near Silver Dollar City!
Our luxurious cabin along with the amazing amenities of Stonebridge and the jaw-dropping natural beauty will provide the perfect place to sleep and play on your next Branson, Missouri vacation!
The perfect Branson lodging choice, Hideaway at the Hollow is owned by John and Amy, the hosts of TPF! Travel. This cabin epitomizes their catch phrase, "Trips, Places and FUN!"
Whether you are spending the day at Silver Dollar City, heading to Branson's incredible shows, having a dinner to remember or simply relaxing at the lake or inside your cabin, Hideaway at the Hollow is the right spot!
#stonebridge #silverdollarcity #bransonlodging #bransoncabin #bransonmissourilodging #bransonmissouricabin #bransonhotel #branson #bransonmissouri