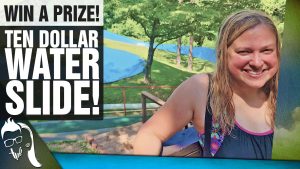 FREE GIVEAWAY from a $10 Waterslide! #giveaway
We'll be giving away FREE tickets to Branson area attractions, shows and restaurants throughout the summer! No catch, just a fun way to promote amazing businesses!
In this video you'll learn how to win TWO TICKETS to Copperhead Mountain Coaster at Shepherd of the Hills!
Official Rules:
► Subscribe and turn on the notification bell.
► LIKE this video.
► Learn what the "secret phrase" is in this video.
► In the next video that's uploaded, when you hear the secret phrase, the NEXT word we say should be added to a comment in that video.
► No other words, hashtags or additional communication can be included in the comment.
► We will take the first five correct answers and put them in a container. We'll draw one winner.
► The prize will be mailed to the winner.
► Entries that don't comply with the rules will be disqualified.
► There is no charge to participate in the contest.
► YouTube's Community Guidelines on contests can be found here: http://www.youtube.com/t/community_guidelines
► All disclosures required by all applicable federal, state and local laws, rules and regulations, including U.S. sanctions are wholly compliant and consistent with the YouTube Terms of Service. (http://www.youtube.com/static?gl=US&template=terms)
► YouTube is not a sponsor of your contest viewers are required to release YouTube from any liability related to the contest.
► We don't collect personal data other than name and mailing address of contest winners. We don't share or sell personal data. #cassville #waterslide #branson #prizes