Posts Tagged 'beyond the lens'
While spending time in the beautiful outdoors in the Ozarks is something that should be at the top of our vacation agendas, there are some amazing indoor attractions as well. When it's too hot, cold or wet, or really at any time during your visit to Branson, head into the great indoors!
Today in Branson I felt like I could fry an egg on my forehead (though I don't see why I'd ever do that). Our family thoroughly enjoys spending quality time outdoors hiking, at Silver Dollar City or at places like Shepherd of the Hills and Branson Landing. Sometimes, for a variety of reasons not limited to the weather, we love to venture inside. Branson has some world class indoor attractions for the entire family!
You can check out full-length videos on all of the following attractions on our TPF! TRAVEL YouTube channel!
Aquarium at the Boardwalk
Amy and I were excited to be among the first to visit this brand new and highly anticipated aquarium in Branson. The gigantic octopus outside threatens to grab passing cars on 76 Country Boulevard with it's massive tentacles. If you can avoid capture, you'll be overwhelmed by the unique, festive aquarium environment inside. While the Aquarium at the Boardwalk isn't the largest aquarium, it makes up for that with it's beautifully themed and well designed home for all types of sea life. We'd also recommend their FIVE'R pass that gives you access to the Hollywood Wax Museum, Castle of Chaos, Hannah's Maze of Mirrors and Shoot for the Stars Mini- Golf.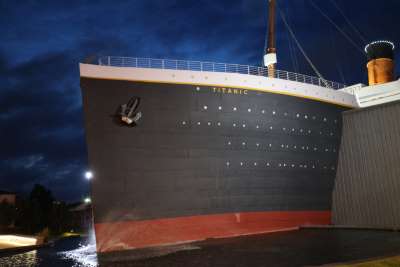 Titanic Museum
The Titanic Museum is one of Branson's premier attractions, highlighted by excellence and attention to detail throughout. You'll be awed by the iceberg and ship as you enter the parking lot, and then overwhelmed upon entering the exhibit. After assuming the identity of one of the ship's actual passengers, you'll experience a variety of museum pieces, actual items from on board the ship, interactive elements and the powerful yet sobering story of this great ship. 
Wonderworks
The upside down house as many refer to it as is a newer addition to the Branson skyline. You can't miss the beautiful monstrosity as it hovers over the passing cars and people walking along the Strip. Once inside you'll have hours of entertainment awaiting you. Science exhibits, rides, games and other fun diversions will keep the entire family engaged.
Beyond The Lens
If celebrities and tabloid news interest you, Beyond The Lens is a must stop. You'll go hands on with various interactive kiosks, play games and dive deep into the world of the famous and infamous. You'll definitely want to check out Flyride, a theme park level attraction that has you flying over our amazing planet.
Butterfly Palace
Little ones, older ones and mom and dad will be all smiles as innumerable and glorious butterflies sputter all around. This stunning rainforest environment is the perfect home for some of natures most adored creations. Be sure to bring your camera and prepare for these colorful friends to land right on you! 
Escape Code & Sagas Mysteries
As many of you know, Amy and I own three businesses in Branson. Escape Code and Sagas Mysteries are two of them, and if you are into dramatic and engaging mystery solving, you must stop by! Escape Code was recently awarded the fifth best escape experience in the nation and has five thrilling games to choose from. Visit a whimsical dwelling Journey Through Elek's Hollow, evade a massive tornado in Vortex or discover what happened to a missing tenant in The Guest House. Sagas Mysteries takes the escape experience to another level altogether. It's a unique, one-of-a-kind escape adventure with immersive sets, interactive video and many rooms for you to investigate.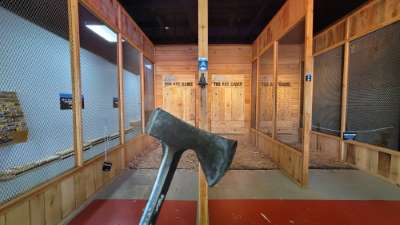 The Axe Game
We also own Branson's original axe throwing venue. Hurling steel is huge fun for those aged eight and up! After a safety briefing and axe throwing tutorial, you'll spend sixty minutes playing games, competing with others in your group and feeling the rush of hitting bullseye after bullseye!
Fritz's Adventure
The moment you walk into Fritz's Adventure you'll transform into a child again as you gaze upon the many things you can climb, crawl into or investigate. Bring your energy, or at least make sure your kiddos are rearing to go as the ropes courses, climbing walls and many other physically invigorating things to do will wipe you out, and you'll love every minute of it!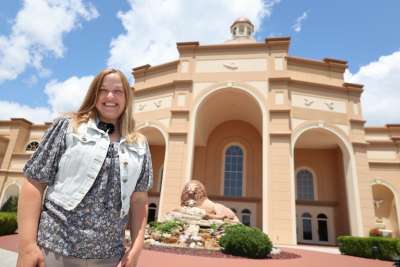 Music Shows
Of course we have to highlight the backbone of Branson, the many theaters and music shows. After a long day in the hot sun it feels great to settle into the air conditioned theater as you munch on snacks, drink cold drinks and get ready for an electrifying show! The number of shows is large so do your homework and find some favorites. In fact, you can go to shows morning, afternoon and night if you'd like! Some of our favorites are Bucket's N Boards, The Haygoods, The Presley's, Smoke on the Mountain and Reza.
Sight & Sound Theaters
No visit to Branson, no matter what the weather is, is complete without experiencing the spectacular productions at Sight & Sound Theaters. This breathtaking and better than Broadway experience will leave you stunned, shocked and awed by the message, the technical wizardry and incredible actors. Trust me, do not miss Sight & Sound on your next Branson vacation!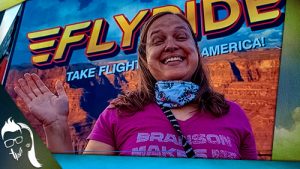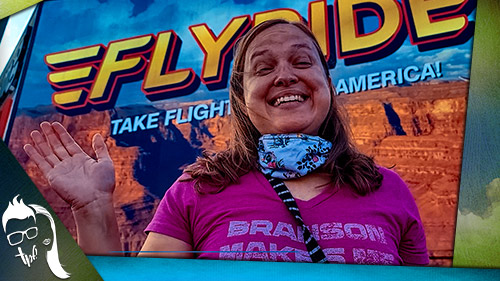 Beyond The Lens Branson | Flyride!
John and Amy try out Branson's newest indoor attraction at Beyond The Lens: Flyride!
This BLEW AWAY our expectations and it reminds us of Soarin! at Disneyworld and Disneyland!
If you are looking for top notch indoor fun in Branson, Missouri, Flyride at Beyond The Lens can't be missed!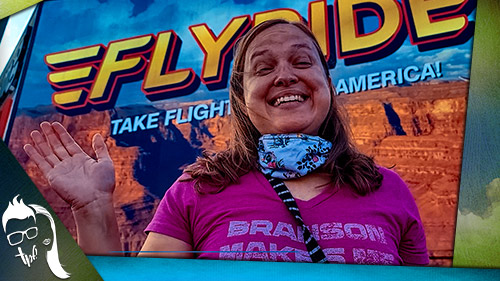 OPENING DAY! New Branson Attraction, Media Preview and Tour – Beyond The Lens
John and Amy were among the very first to tour Branson's newest EPIC attraction, Beyond the Lens!
Experience this media preview on opening day of the many incredible displays, VR, interactive media, and MUCH MORE in an absolutely first rate, beautifully themed and designed attraction.
At one point Amy needed rescuing…for real…and John saved the day. Don't miss this amazing walk through on opening day of Beyond the Lens!
MORE INFO:
A new unique attraction opening today is upping the tourism industry in Branson. Visitors will be able to go Beyond The Lens! as they step through a giant camera lens into 30,000 square feet of an incredible American, pop culture, family fun and interactive experience.
Beyond the Lens is loaded with several pop culture experiences as well as virtual reality games, augmented reality, interactive touch screens for gaming, incredible photo ops and more.
Visitors will dive into the JFK conspiracy, get the scoop on the British Royal Family, explore the biggest crimes of the past century such as Ted Bundy, JonBenét Ramsey, OJ Simpson and other 'whodunits'. They will also experience the life of celebrities in Hollywood.
Beyond The Lens! will be open 365 days a year. For more information, visit https://www.beyondthelens.com/
Special features include:
• Walk the Red Carpet – motion activated paparazzi
• Bigfoot / Hunter Cabin
• Royals Room & Closet
• Space Jump / Alien Ball Pit
• Michael Jackson – hyperbaric chamber
• JFK Conspiracy Theories
• Oval Office Photo Op
• Human Kaleidoscope
• History of Social Media
• Eye in the Sky – Celebrity Homes
• Celebrity Dance Off
• 360 degree 'Matrix' Photo Op
• Virtual Reality & Augmented Reality
#branson #new #attraction #travel #family #adventure #vlog #trips #vacation