Posts Tagged 'branson strip attractions'
Branson 2020 | Protests, Masks…and VACATION?
With a trending viral video shot during a recent protest many are wondering if this is the right time to vacation in Branson, Missouri.
John and Amy share their thoughts from various spots along the Strip. Branson is busy, fun, friendly and welcoming, and while there are certainly changes and challenges, don't let the negative report from a single person change your vacation plans!
Silver Dollar City, Dr. Yakov, Noah at Sight and Sound Theater, The Track, The Axe Game, White Water and many more attractions, restaurants and shopping are open, busy and ready for YOU!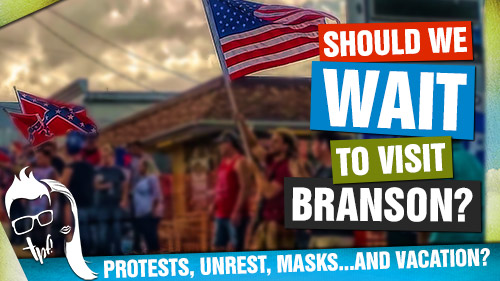 Branson 2020 | Branson, Missouri is Opening for the Season!
Branson, Missouri is starting to OPEN for the 2020 season…and it brought Amy to tears…TWICE!
John and Amy take you on a tour of the Strip and downtown Branson to see what is now open after the city has relaxed many of the restrictions.
They check out Wonderworks, the Promised Land Zoo, shows, restaurants, Dick's 5 & 10, shops, attractions and other areas of interest.
Larger attractions such as Silver Dollar City, White Water and the Titanic Museum haven't revealed their opening dates quite yet.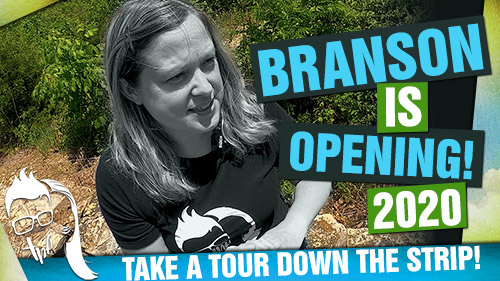 🎡 The Branson Strip | Ultimate Tour | What is Open and Closed in Branson
John and Amy take you on an end-to-end tour of the Strip in Branson, Missouri.
With the current situation in our nation many attractions, stores, restaurants, shows and other destinations are closing to the public.
You'll see many large and small spots on the tour including Starbucks, the Titanic Museum, the Butterfly Palace, The Track, White Water, Bigfoot on the Strip, Grand Country, T-Shirt shops, antique shops, golf, restaurants and MORE!
They also drive through Tanger Outlets and note every store that is open and closed.