Posts Tagged 'sight and sound theater'
Sight & Sound: Jesus | ON STAGE at Sight & Sound Theaters Branson, Missouri
John and Amy are overwhelmed by this EPIC production of Jesus at Sight & Sound Theaters in Branson, Missouri!
The tears were freely flowing as the story of Jesus was presented in a way that is absolutely mind blowing.
They had the opportunity to walk the set on stage and grab an incredibly interesting and informative interview!
You'll see this incredible theater, check out a variety of viewpoints, see the amazing set design and technology and then experience John and Amy's reaction to this life-changing production!
Branson 2020 | Protests, Masks…and VACATION?
With a trending viral video shot during a recent protest many are wondering if this is the right time to vacation in Branson, Missouri.
John and Amy share their thoughts from various spots along the Strip. Branson is busy, fun, friendly and welcoming, and while there are certainly changes and challenges, don't let the negative report from a single person change your vacation plans!
Silver Dollar City, Dr. Yakov, Noah at Sight and Sound Theater, The Track, The Axe Game, White Water and many more attractions, restaurants and shopping are open, busy and ready for YOU!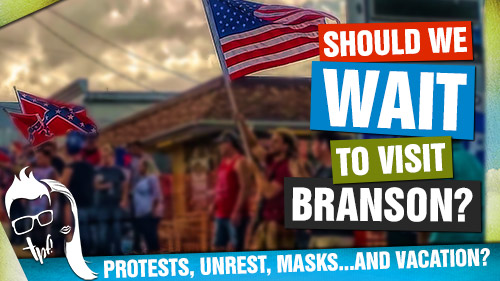 Top 10 Things to do in Branson
(It's tough to limit it to just 10!)
You can easily spend weeks in the Branson Ozarks without exhausting everything you can do here. 
There are more than ten things that the team at Escape Code loves in Branson, but we compiled a list of ten of our favorites.
Of course, Escape Code is a favorite of many and we'd love to invite you to play!
Here's our most up to date list of our ten favorite attractions in Branson, Missouri: