Posts Tagged 'attraction'
OPENING DAY! New Branson Attraction, Media Preview and Tour – Beyond The Lens
John and Amy were among the very first to tour Branson's newest EPIC attraction, Beyond the Lens!
Experience this media preview on opening day of the many incredible displays, VR, interactive media, and MUCH MORE in an absolutely first rate, beautifully themed and designed attraction.
At one point Amy needed rescuing…for real…and John saved the day. Don't miss this amazing walk through on opening day of Beyond the Lens!
MORE INFO:
A new unique attraction opening today is upping the tourism industry in Branson. Visitors will be able to go Beyond The Lens! as they step through a giant camera lens into 30,000 square feet of an incredible American, pop culture, family fun and interactive experience.
Beyond the Lens is loaded with several pop culture experiences as well as virtual reality games, augmented reality, interactive touch screens for gaming, incredible photo ops and more.
Visitors will dive into the JFK conspiracy, get the scoop on the British Royal Family, explore the biggest crimes of the past century such as Ted Bundy, JonBenét Ramsey, OJ Simpson and other 'whodunits'. They will also experience the life of celebrities in Hollywood.
Beyond The Lens! will be open 365 days a year. For more information, visit https://www.beyondthelens.com/
Special features include:
• Walk the Red Carpet – motion activated paparazzi
• Bigfoot / Hunter Cabin
• Royals Room & Closet
• Space Jump / Alien Ball Pit
• Michael Jackson – hyperbaric chamber
• JFK Conspiracy Theories
• Oval Office Photo Op
• Human Kaleidoscope
• History of Social Media
• Eye in the Sky – Celebrity Homes
• Celebrity Dance Off
• 360 degree 'Matrix' Photo Op
• Virtual Reality & Augmented Reality
#branson #new #attraction #travel #family #adventure #vlog #trips #vacation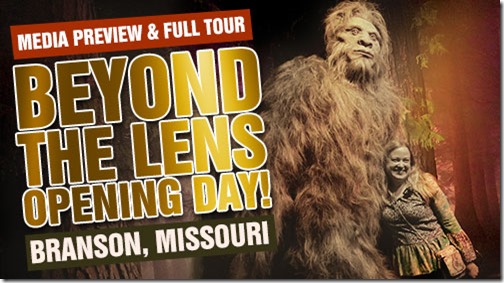 Branson vacations are perfect for families and the kids! Discover some of the top things to do with kids in Branson, Missouri!
At Escape Code we are often asked if our escape rooms are a good activity for kids. Our response? Escape Code is an amazing attraction for kids of all ages to experience! Without question, Escape Code is among the top things to do with kids in Branson, Missouri!
Solving mysteries whether you are young or not so young is thrilling, and the experience at Escape Code is sure to be memorable!
Since we are so convinced that children are an important and wonderful part of Branson tourism, we just have to share some of our other favorite family attractions in Branson!