Branson, Missouri | Free, Cheap and FUN in Branson, Missouri!
Check out a flooded nature trail as John and Amy share several FREE, CHEAP and FUN attractions and places to visit in Branson, Missouri!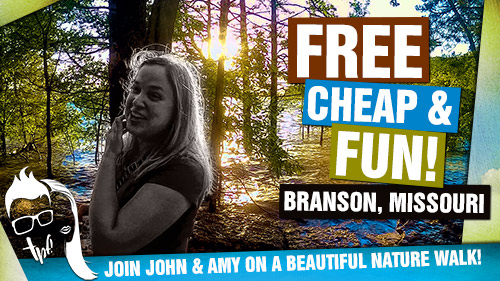 John and Amy share some tips on how to travel efficiently and more often!
VIDEO TRANSCRIPT:
Love to travel but short on time and money? We've got some tips for YOU
Hi guys, this is Amy. this is John and we're with TPF! Trips, Places and FUN! Where we share some practical travel tips and visit some exciting destinations.
Today we'd like to discuss some ways to save time and money when you're traveling. So how to be more cost effective and more efficient when you're taking trips. One of the first things that we always go over when we're deciding to take a trip is who is going to go with us. So we are a big family of seven and it costs a lot of money for our whole family to travel somewhere, so we do something that a lot of people might think is a little crazy. Often, actually most of the time, we will only take certain members of the family on our vacations. Sometimes it's just Amy and me sometimes these are business trips and, for example, recently we took a trip to Florida and it was just us and our youngest daughter Eva. Most places are geared towards families of four, maybe five. If you end up traveling with more than five members as a family you end up paying a lot more money. You then have to rent a suite instead of a hotel room or you have to rent two hotel rooms. It's very difficult to get a rental vehicle for seven people, things like that. So sometimes we'll just divide it up. We'll take our youngest kids or we'll take our oldest kids or we'll take just the girls or just the boys or just the two of us. So that may sound terrible to some of you but you know, of course, there's times when we'll all pile in the van and go, all seven of us, but in order to travel a lot and you travel more cost-effectively sometimes we will take trips with just some of the members of the family. And for us it's more fun, it's more exciting, to go ahead and take several trips like that then it would be just to take one giant trip every three or four years. Yes exactly, so that's something to consider if you have a big family.
So one of the places that I usually start is an online travel site. Orbitz is kind of my web site of choice. I found they have great customer service. There was a time when we were on our way to Disney World in our minivan, and it broke down and we weren't able to make our hotel room that night and they actually refunded us to get a new hotel in the place where we were broken down. So there have been other travel sites that we had similar issues and they would not refund, but Orbitz was great that way so I love to give them our business. So I'll start there. I'll even look at places like eBay, VRBO, which stands for vacation rental by owner, Airbnb, all those places. So start there. You can usually get some awesome deals. So I usually use Orbitz for rental cars, I'll use it for hotel rooms, sometimes flights, but lately we've found that you can get great deals on the actual airline site like a Allegiant or Frontier. Some of those budget airlines you won't be able to find on Travelocity or Orbitz or those, but if you go directly for those sites you can get some amazing deals.
So probably my favorite travel strategy by far is TSA PreCheck. So I fly a lot, we fly often together, it is worth every ounce of money and every ounce of time that it takes. You actually register, it's worth it, it's absolutely worth it so you don't have to wait in the long lines, you don't have to take off your coat, don't have to take off your shoes, don't have to take out your laptop, don't have to take out your toiletries, you just cruise right through security. Then it'll save you some of that crazy that we all experience at the airport. Yes, as you go through security it saves you a lot of time and a lot of hassle and I think the whole process costs us around $80 or something for you to get. It'll last five years and for us we had to go to Springfield, Missouri and there was one specific place, and you go in and it took me maybe an hour and I was done. So definitely worth the time and money to do that if you travel a lot.
Now, I want to encourage you, you know, oftentimes when we think of going on vacation, it's a big gigantic ordeal or planning a long time in advance and, that's great for certain trips. Of course, we love to do that. In fact, that's a lot of fun as you're planning your trip, you're planning your fast passes at Disney and you're doing it way in advance and you're making your dinner reservations, but another way to go about this so you can add some travel in between the big trips is to take short trips, just quick trips. Get everybody in the van or in the car and cruise a couple hours away. There's some place close to you and do it on the cheap. Go camping if you want to do that or just hang out at the lake if there's a lake there, go hiking or just what can you do there just to get away from the crazy hustle bustle of life and just enjoy an overnight stay with the family, just to get away. So you can do that, there's a lot of free things, a lot of cheap things, that you can do pretty much anywhere that you travel. In fact, I'd encourage you to check out our, I'll put a card right up here, "Disney World free and cheap strategies." There's a way that you can enjoy Disney magic for free or cheap. When we took our trip to Orlando recently we actually got to experience a lot of the Disney magic for not much money at all, so definitely check out that video.
So one thing that we do to cut down on our costs is we share a suitcase. So with some of the budget airlines now, Allegiant and Frontier and a lot of those, you are paying for your carry-ons. That used to not be that way but that's how it is nowadays. So in order to cut back on the cost we share a suitcase, and we don't like to check our bags, that's another tip that we didn't consider. Don't check your bags. Carry on. Yes we like to carry on, that does save time and it can also save the hassle if you ever, you know, lose a bag. You know, what a pain that is, but anyway we like to carry on one bag and we share our bag. So anyway, we wanted to share some tips on how to do that. Often, if we know we're gonna be gone a week or two or three weeks we will make sure that the hotel that we get or the resort that we stay at does have a place for us to wash our clothes. So we'll check into that sometimes. Also we have a few kind of bag tips to share with you. John is going to talk to you about how to use packing cubes. I love packing cubes. These are containers that you can buy at Amazon. They're very inexpensive and they're zippered, the ones that I have you open this bag and you roll your clothes very, very tightly. So you're gonna roll your shirts you're gonna roll your pants very tightly you're gonna stuff them into the bag you're gonna zip it up and so all your shirts go into one bag all of your pants go another bag. You know, everything has its own bag, and then you put these bags into your suitcase and boy does it save a lot of space. In addition to your carry-on most airlines are going to allow you to bring a free personal item. A lot of times that'll be a laptop bag. That's usually what John carries on. I usually bring a backpack. So this is my backpack. Inside of my backpack I usually put a small, my small purse. So this is my Vera Bradley hipster. But this is what I put inside my backpack. That doesn't take up very much space, so that I leave the rest of my backpack for souvenirs or my toiletries or whatever I need to stick in there, but this hipster is great for, I can carry this on a lot of the slower Disney rides or things like that just because it stays nice and secure. Or I have a fanny pack which John always makes fun of me for that. I don't ever make fun, sometimes or all the time. The fanny pack I have, it's actually a really cute one and I get compliments on this thing everywhere I go. This will also fit nicely in that backpack and this is something I can actually take on a lot of rides. Now people want to know where you got that. I just got this on Amazon. I will tell you the name. Lackhays. Spell it. LACKHAYS. So and Lackies? I don't know how to pronounce it but this one is super cute. Seriously every time I wear it out I, just so many people ask me about it, after you, where I got it and then she looks at me and then I just roll my eyes. And I'm like, see there are cool fanny packs.
So, something that we tried fairly recently for the first time was using Uber and Lyft when we went to Orlando. Now that only works if you don't plan on traveling long distances. So for example, the Sanford Airport in Orlando, we'll fly into there sometimes. That's quite a distance and it gets expensive if you're going to take an Uber from there all the way into Orlando or all the way to Disney World, but the main Orlando Airport, use Uber, use Lyft and boy it's actually a lot of fun. I thought, you just punch it into the app, within a matter a minute or five minutes there, they are, they're there to pick you up and take you where you want to go. And you meet a lot of cool people and very, very cost-effective. You're going to save the parking at the Disney resorts, I don't know if y'all know, but the Disney resorts are charging you to park now, so you'll save that parking or if you are not staying in a resort but you're driving into the theme park it will save you the parking at the theme park. So actually Uber can actually save you a lot more money over a rental car if you consider some of those things, but again you have to figure out how close you're going to be staying, you know, to the airport, to the theme parks and see whether it'll make sense for you, but it's also extremely convenient because when you're done with a theme park for the day all you do is you get your Uber and they pick you up right there at the gate. No, no taking a tram out to the parking lot and all that, so that can be extremely convenient – as well as cost-effective. Definitely and be sure to tip your driver very well. Yes.
One other little tip that we have, especially for at the theme parks at Disney or whatever, we will only eat two meals a day. Really you don't need more. They feed you so much food. Usually, you know, we'll keep snacks and stuff on us, but will usually eat a late breakfast or an early lunch and then, you know, a later dinner. So that's really all you need is those two meals a day and some snacks. That'll save you versus doing all three meals a day. Now I remember there was a time when I was a little, little kid and my mom, we all were flying to Orlando to go to Disney, and my mom packed an entire suitcase full of canned goods, a huge heavy suitcase which would not save you money. These days, since you're paying to check your bags and stuff like that there's a better way, and by the way, just a little bit of a side note, don't worry too much about forgetting things when you travel. You can buy almost anything that you might forget when you're there. Those times I've had to buy socks or I ruined a shirt and I needed a shirt and I would buy a shirt or toiletries or whatever. And so don't stress out about packing too much. You can always get something.
And one last tip is always check if it's cheaper to buy your tickets online. Usually, you know, the theme parks or different attractions you might want to go to are going to have a discounted online price. Also always do a quick Google search to see if there's a discount available. You'd be surprised. A lot of times I'm about to check out and I'm like, oh let me just see if there's a discount available and I'll save an easy twenty percent or, you know, buy an adult's I can get a child's free or something like that that I never would have known about had I not searched. Or you can give the place a call and just ask them if they have a discount, a valid discount at that time, and a lot of times they'll just give it to you. And definitely make sure that wherever you're going and whatever attraction you want to visit, make sure that is going to be open when you get there. Don't presume it will be. It may not be, for example we're going to Orlando soon and I was all about going back to the swimming with the dolphins, Discovery Cove, and I, we wanted to go. We've been before and it's closed. It's closed when we're going so that's something we had to, of course, take into consideration. Yes, it's a good thing we didn't pre-buy our tickets for that because we wouldn't have been able to go. So right.
So we hope that we've given you some things to think about and some ways to save time and money while you travel. And it would mean a lot to us if you would give us a thumbs up and subscribe and that really does help the development of this channel. So it does mean a lot to Amy and me, and then ring the bell and that will ensure that you are notified every time that we upload a new video which is happening several times a week. Yep. safe travels everyone!
LINK to Orlando Sanford International Airport: http://orlando-sanford-airport.com/
Discover just a few of the ways you can experience Disney magic on a budget!
Video Transcript:
AMY: Hi,this is Amy with TPF, Trips Places and FUN! And I'm here today with John and we'd like to discuss how you can experience some of the magic of Disney for free or cheap.
JOHN: So if you think about it, the Disney properties are absolutely massive, and you know, we thought about it, is it possible that there could be some things to do on property where you can experience the magic and the wonder of Disney but save a lot of money? And so we took a trip with our youngest daughter and instead of going to the parks we decided to put this theory to a test and we were blown away. There is so much to do at Walt Disney World there in Florida that doesn't cost a lot of money and a lot of it really is free. Now, our family we love the magic. We love the magic of Disney. Of course everybody likes rides. Everybody likes what you're going to experience in the park, but there's a lot of that you experience in the park, the magic, the theming, that you can experience outside the park, and there's things that you can enjoy outside of the park that you would never enjoy inside of the park. So we're gonna go over a few of these things and maybe your next trip to Orlando you'll be able to save a lot of money, but also have a lot of fun.
AMY: So the Disney resorts are a great place to start. There is so much fun, so many things to do at the resorts. So today we're gonna talk about some of our favorite things to do there that are super inexpensive or even free.
JOHN: Alright, so first let's talk about Fort Wilderness and the Wilderness Lodge. First of all, this is true with any resort. During the day and evening even, most people are in the park, so what that means is it feels like you have the resorts all to yourself. It's a great opportunity to discover just what you can do for fun, entertainment and relaxation there in the resorts. So let's start with Fort Wilderness. There's a lot to do there. For example you can take wagon rides, pony rides, the kids will have a blast. Even just walking around the Tri Circle D Ranch and looking at what there is to see there; the horses and the barn, and there's, it's just a beautiful rustic, western setting, just so much fun. And then we would recommend renting bikes. That's what we did. We had our youngest daughter with us, and she got a bike with training wheels and she was so excited. And so you can ride your bike from Fort Wilderness on over to the Wilderness Lodge, and you ride your bike down a path that goes through the woods and you can stop and take pictures and look at the wildlife, and it's just a very relaxing fun little bike trip that you can take there. Once you get to Wilderness Lodge, that's a beautiful, beautiful resort. There's so much to see and do there. You can walk through the lodge itself. It's absolutely stunning. Spend some time there, kick back on the couch and relax and just enjoy the atmosphere. Of course, there's always food and drink and things that you can experience if you're hungry, if you're thirsty. As well, at at the Wilderness Lodge, there's boat rides. You can ride ride a boat just between different resorts and different properties. And the boat ride itself, that's one of the most fun things that we did as a family. And it was fun just to jump on that boat and maybe not even realize exactly where you're going and then just enjoy the ride. Then, after you returned to Fort Wilderness, one of our favorite things to do, we've done this actually several times, it's absolutely free, is to go to the Chip and Dale Campfire Sing-Alongs. Anybody can go. In fact, if you just want to drive to Fort Wilderness, maybe in the evening, if you're doing other things during the day, you can do that. Park in the parking lot, jump on the bus and they'll drop you off very near where the the campfire sing-along is. And, it's an outdoor setting. There's a movie screen there, and they actually show movies as it gets dark. You can buy s'mores and cook your own s'mores on the campfire. There's a sing-along with cowboy songs. And then Chip and Dale, they make an appearance and you can get your picture with them you can dance with them. It's a great, great, great fun event. I actually felt a little guilty enjoying myself that much and not paying a dime for it. But I didn't feel that guilty. It was a lot of fun.
AMY: For some more free fun, head on over to the Polynesian. The Polynesian is a great resort. It's got a laid-back island theme. You may be given a lei as you walk through the front doors, but this is one of our favorite resorts just to hang out at. They have a gorgeous beach that you can go and look at the Seven Seas Lagoon. One thing you can do is ride the monorail. So you can get on the monorail there at the Polynesian and travel all around the circle and you can see the front gates of the Magic Kingdom. You can go past the Grand Floridian. You can go past the Contemporary. So that's super fun, just to ride the monorail and to get some great pictures of the Magic Kingdom and that sort of thing. You can also take boat rides to and from, so you could take boat rides to the Magic Kingdom and back and and all this is totally free. The Polynesian also has some fun things to do for the kids. So sometimes they'll hold little events. I remember our daughter got to do the limbo and played with a bunch of kids there at the Polynesian they also have movies that they have out on the lawn at night. So if you want to grab a Dole Whip, that is one place where you can get a Dole Whip float. It's one of my favorite things to get at Disneyworld. So you can grab a Dole Whip, you can go out to the beach on the Polynesian, you can hang out there you can watch that movie on the lawn or, and this is our favorite place to watch the fireworks. You can watch the fireworks at night from the Polynesian without all the crowds while you eat your Dole Whip. And you can also see that electrical water pageant. You can watch that go by so it is really a fun thing to do. If you're not gonna hang out at the parks, and you want that Disney Magic, go to the Polynesian. Hang out on the beach and watch that the electrical pageant and watch the fireworks.
JOHN: So that brings us to Disney's Boardwalk. I'll never forget the first time that I saw the boardwalk. And actually it was very recently. We were on a previous trip. We were at Epcot, and we thought that we would go ahead and leave the park and we got in the boat and it took us to the Boardwalk. I had no idea that there was such an amazing, really amazing, resort right there so close to Epcot. And so that's something that I would encourage all of you to do. Just visit the Boardwalk. You could take a ride on a Surrey bike. That's a covered bike with two to four people and you ride around the entire perimeter of the property, around the lake, drive by shops and restaurants and just just so fun and beautiful. Now I'll tell you this that you need to work your leg muscles out just a little bit before you get on that thing. We had no idea, we were enjoying our nice little adventure around the circle, and then all of a sudden there was a hill and, wow, was that thing hard to get up! And so we got all the way around and I'm like, wow, okay, I'm tired, and I'm done. And Amy said, let's do it again! And so off we go again and we huffed and we puffed and had a great, great time. So that was really, really a lot of fun. From there you can take the boat, as I said, and you can gaze into Epcot. I don't know about you all, but sometimes for us, we just like to see things and see the magic. And you can do that. You can see the Eiffel Tower and the different things there at Epcot without actually paying to get in. Additionally I'd encourage you to go over to the Swan and Dolphin resorts. We had a milkshake there at a cafe. Really, really good employees. The service was great. They took such great care of us. And it's a beautiful, beautiful property there. And then we walked around and walked by the swimming pools and there was a playground. And our daughter loved to play on the playground and had a great time there, at the Swan and Dolphin Resort. In fact, also right in that area and on the boardwalk you're gonna see street entertainers. You can just kick back and enjoy music and the different things that are happening there on the street. And, speaking of street entertainers, head on over to Disney Springs. We have her daughter, she was involved in this hula-hoop thing where all the kids were out there and Disney cast members were kind of conducting the event and she was hula-hooping, and it was a little party atmosphere there. And we'd walk around and we'd see magicians and mimes and bands. A lot of fun and, of course, peek in the stores and go shopping and just have a great, great time just immersing yourself in that Disney environment. It can be absolutely free or definitely cheap.
AMY: One more thing we decided to do on our "Disney on a budget trip" was to visit Chef Mickey's. Now Chef Mickey's is a buffet. It's character dining at the Contemporary Resort. I will say that it is not cheap, and it is definitely not free, but it is sure a heck of a lot cheaper than getting into the parks and paying for all the food there and going to meet all the characters in that way. So what we did is, we made in a reservation at Chef Mickey's. We got there, the food is really good. It's a buffet. And so we got to eat pancakes and, I'm gluten free, and so I got to eat some gluten-free Mickey waffles which were awesome. A lot of breakfast foods, but really the treat here is getting to meet all the characters, and the staff is very, very good and making sure you get time with every single character that's there. So our daughter was so excited to meet Mickey and Goofy and Donald and Minnie and she just had her special time there with them. And that is something that you can do if you decide you want to be able to meet all the characters and you want a little bit extra of that Disney magic but you don't mind shelling out a little bit of money for that, or actually maybe more than a little bit.
AMY: I hope we've given you some ideas on ways to experience the magic of Disney on a budget.
JOHN: And stay tuned for future videos. I'm sure on future trips we're going to discover a lot more that we can do cheap, on a budget, free and so we're gonna share that with you. In order to be notified of future videos, definitely click that subscribe button and then click the bell so you can receive that notification every time we upload a new video. So thanks for watching and we will see you again next time.
AMY: Safe travels everyone!