Amy's Birthday! Christmas at Disney Springs in Orlando, Florida
How about a little Christmas in May? Join us as we jet from the frigid cold in Missouri to the beautiful weather in Orlando, Florida!
We recorded this on a FUN trip to IAAPA at the Orange County Convention Center in November, 2018.
#disneysprings #disneyworld #orlando #travel #family #adventure #vlog #trips #vacation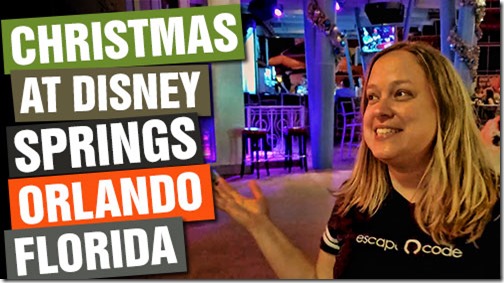 Could Legoland in Florida be BETTER than Disney World?
VIDEO TRANSCRIPT
Legoland is better than Walt Disney World, say what?
Hi everyone I'm Amy, and I'm John, and we're with TPF! Trips, Places and Fun, and today we just want to talk a little bit about five reasons why Legoland might be a better choice than Walt Disney World.
Say what?
Yeah, now before you immediately give me a thumbs down or hate me for saying that, let me just preface by telling you that we are huge Disney fans.
Big-time. I am addicted to Disney. I'm addicted to theme parks. I'm addicted to Universal. Maybe not addicted, that would be unhealthy, but I like it.
We love it! So we try to make it to Disney World at least a couple of times a year. We love the magic ,we love the wonder, all of that is unsurpassed. But we just want to talk about some reasons why a trip to Legoland might be better than a trip to Disney World in certain situations.
And Amy actually had the recommendation of going to Legoland on a recent trip and I was not a big fan, but I got to tell you, it was a great idea.
So the first reason why you would maybe want to consider visiting Legoland instead of Disney World is the price. I'm sure a lot of you were already thinking that, but we were able to visit Legoland, as John said, recently. One thing you can do is check online for discounts. Now it's very hard to find discounts to Walt Disney World online or anywhere for that matter, but Legoland it's much easier, and so we were able to get a deal that was get an adult ticket you get a ticket free. So that means that a family of four could visit Legoland for under $200.
And I just went online and I saw a current special: buy one, get one half price. So that is definitely a bonus there. Now family of four going to the Magic Kingdom, for instance, for one day is going to be close to $500. So that is a huge price gap there. If you decide to go to Legoland for the day instead, you could save almost three hundred bucks.
So anybody who's been to Disney World, any of the parks, you know that the crowds are crazy. Nobody likes crowds. Yeah that's true. So the second reason that you might want to visit Legoland instead of Disney World is smaller crowds. So now I can't speak for every time that you might visit Legoland, but on the day we went, we were walking right on everything. I don't think that you would really ever be able to do that at Disney World. There was a time maybe 10 or 15 years ago when you could pick certain days and hit Disney on a day where you could do that but nowadays any time that you go to Disney it's going to be a lot of people. So Legoland the day that we were there, there was hardly anybody on park. We could walk right on anything, and so that was kind of a nice break from all the crowds in Orlando and at all the Orlando parks. So that's another reason you might want to consider Legoland.
By the way, it was raining a little bit on the day that we went. If you've seen our previous video on how to have fun in the rain in Silver Dollar City, you'll understand that rainy days can be great days. In fact, I encourage you to go check that video out and learn how to have fun in the rain really at any park.
The third reason to visit Legoland is that it is something different. Now, especially for us, we have been to all Disney World a lot and while we loved it, we were kind of wondering, is there something else out there? I had never been to Legoland and so for us it was just a really unique park, so much fun, so much color. I mean you know what Legos are right? So think of a theme park just full of brightly colored Lego bricks and there you have it. But really, really, really a great park. I mean, they have Miniland USA there where you can see New York City and Hollywood and even a galaxy far, far away. It's great for Star Wars fans. All made out of Lego bricks. So there are 32 million Lego bricks in Legoland USA. And we and we visited Miniland USA, we probably went through there two or three times, and still didn't even come close to seeing everything that there was, but that's super fun, super unique, you know so something you wouldn't see at Disney World. Also there are lots of coasters, there are some dark rides, and we love dark rides. It's my favorite. That's our favorite. And there's a ride there called, is it Ninjago? It sounds about right. Our daughter was a master. She was phenomenal. The way that you played this thing is you, it's like, it's like you have to do like this, and you're shooting a gun use here she was great at it, and she beat us every single time. She loved it so much. Like I said, we were able to walk right on everything, so we could just keep going on it and she just crushed us every time. But that was a great dark ride. They have so many different things there to see and do and so if you're wanting something unique, if you've been to the Disney parks a lot of times like we have, and you're just wanting to try something different, Legoland is a great choice. So much fun and something you're not going to find anywhere else.
All right, so the fourth reason why you might want to check out Legoland instead of Walt Disney World is the Botanical Garden, Cypress Gardens. And many of you might remember Cypress Gardens from a long time ago. Legoland was built on the site of Cypress Gardens and thankfully they retained Cypress Gardens and so it's a different section of the park. It's beautiful. I've never seen anything like it in my life. Yeah we loved walking through there, and I've never been to Legoland but I was at Cypress Gardens when I was a little girl, so it brought back so many memories. I'm walking through this beautiful botanical garden. So some of you might remember being, doing this as a child and it's great. I'm so glad that they maintain this area. So another thing that's there is a water park. It may be included in your ticket if you, I think you have to pay a little bit extra in your ticket, you can go to the water park. If you have an annual pass that's gonna include Legoland and the water park but they have this great water park that has some of the traditional stuff like your wave pool and water slides and stuff. They also have a very cool lazy river where they have giant Lego blocks in the river, so as you're floating down the lazy river you can be building a raft and you can be playing with these giant Lego bricks as you see scenery go by that's also made out of Lego.s So how much fun is that that? Lots of fun! Exactly.
And also those of you that remember Cypress Gardens they're famous for these the water skiers and and the jumpers and they still have that. Yes, except now it's Lego people. Yes they have Lego water skiers so now that is something that you have to see at least once.
And the final reason, the 5th reason why you would maybe want to choose Legoland over Walt Disney World at least once is that it is very kid focused. So you, if you have a child ages 3 to 12, this is going to be perfect for them. And for the little ones they have a Ducloland which is kind of those big Lego bricks that they have for toddlers. So they have a land that is all very toddler oriented and of course all the Lego lovers in your family. There's a little bit for older kids up through maybe age 12 this is aimed right at them, so of course the Disney parks are more for all age groups, there are certainly some more kid oriented things there but at Legoland it is all about them. So if you have a child in this age range, definitely consider taking them there. When we took our daughter, she was four almost five and it really was the perfect thing for her.
And you better be full of energy. Eva did not wear down the entire day, but I still remember, in fact I have a video, I'll try to find it, where Amy, she fell asleep on one of the rides that she was riding with Eva at the end of the day.
This is true. We were there open to close and we never ran out of things to do and see. So just to let you know, it is something that can take all day, super, super fun.
Have you been to Legoland? And if so, comment in the section below and let us know what your favorite thing to do there was. We hope we've at least given you some things to think about even if you might not agree with us.
They wouldn't agree with us? Wow. Give us a thumbs up if you do or even if you don't just because you like us, because we like you, and then subscribe and ring that bell and you'll be notified the next time a video comes out.
Safe travels everyone!
Bloopers: Hi everybody this is Amy. You said to be more exuberant. I mean more more more natural. And don't forget to thumbs up, that really helps if you like it. If you don't like it we'll do better. We got to work, we got to work on this, we got to do that, please don't give us the thumbs down okay but just thumbs up and then subscribe and then ring the bell. Awesome. Happy travels everyone. Yes you got screw that up. We just broke a tradition. So the second reason why you might want to visit Legoland instead of Disney World is fewer crowds and now I can't… small, smaller crowds, say they each have one crowd. That's true, a smaller crowd, so a smaller crowd. You should usually respond, okay, we're moving on, Mm-hmm.
Discover just a few of the ways you can experience Disney magic on a budget!
Video Transcript:
AMY: Hi,this is Amy with TPF, Trips Places and FUN! And I'm here today with John and we'd like to discuss how you can experience some of the magic of Disney for free or cheap.
JOHN: So if you think about it, the Disney properties are absolutely massive, and you know, we thought about it, is it possible that there could be some things to do on property where you can experience the magic and the wonder of Disney but save a lot of money? And so we took a trip with our youngest daughter and instead of going to the parks we decided to put this theory to a test and we were blown away. There is so much to do at Walt Disney World there in Florida that doesn't cost a lot of money and a lot of it really is free. Now, our family we love the magic. We love the magic of Disney. Of course everybody likes rides. Everybody likes what you're going to experience in the park, but there's a lot of that you experience in the park, the magic, the theming, that you can experience outside the park, and there's things that you can enjoy outside of the park that you would never enjoy inside of the park. So we're gonna go over a few of these things and maybe your next trip to Orlando you'll be able to save a lot of money, but also have a lot of fun.
AMY: So the Disney resorts are a great place to start. There is so much fun, so many things to do at the resorts. So today we're gonna talk about some of our favorite things to do there that are super inexpensive or even free.
JOHN: Alright, so first let's talk about Fort Wilderness and the Wilderness Lodge. First of all, this is true with any resort. During the day and evening even, most people are in the park, so what that means is it feels like you have the resorts all to yourself. It's a great opportunity to discover just what you can do for fun, entertainment and relaxation there in the resorts. So let's start with Fort Wilderness. There's a lot to do there. For example you can take wagon rides, pony rides, the kids will have a blast. Even just walking around the Tri Circle D Ranch and looking at what there is to see there; the horses and the barn, and there's, it's just a beautiful rustic, western setting, just so much fun. And then we would recommend renting bikes. That's what we did. We had our youngest daughter with us, and she got a bike with training wheels and she was so excited. And so you can ride your bike from Fort Wilderness on over to the Wilderness Lodge, and you ride your bike down a path that goes through the woods and you can stop and take pictures and look at the wildlife, and it's just a very relaxing fun little bike trip that you can take there. Once you get to Wilderness Lodge, that's a beautiful, beautiful resort. There's so much to see and do there. You can walk through the lodge itself. It's absolutely stunning. Spend some time there, kick back on the couch and relax and just enjoy the atmosphere. Of course, there's always food and drink and things that you can experience if you're hungry, if you're thirsty. As well, at at the Wilderness Lodge, there's boat rides. You can ride ride a boat just between different resorts and different properties. And the boat ride itself, that's one of the most fun things that we did as a family. And it was fun just to jump on that boat and maybe not even realize exactly where you're going and then just enjoy the ride. Then, after you returned to Fort Wilderness, one of our favorite things to do, we've done this actually several times, it's absolutely free, is to go to the Chip and Dale Campfire Sing-Alongs. Anybody can go. In fact, if you just want to drive to Fort Wilderness, maybe in the evening, if you're doing other things during the day, you can do that. Park in the parking lot, jump on the bus and they'll drop you off very near where the the campfire sing-along is. And, it's an outdoor setting. There's a movie screen there, and they actually show movies as it gets dark. You can buy s'mores and cook your own s'mores on the campfire. There's a sing-along with cowboy songs. And then Chip and Dale, they make an appearance and you can get your picture with them you can dance with them. It's a great, great, great fun event. I actually felt a little guilty enjoying myself that much and not paying a dime for it. But I didn't feel that guilty. It was a lot of fun.
AMY: For some more free fun, head on over to the Polynesian. The Polynesian is a great resort. It's got a laid-back island theme. You may be given a lei as you walk through the front doors, but this is one of our favorite resorts just to hang out at. They have a gorgeous beach that you can go and look at the Seven Seas Lagoon. One thing you can do is ride the monorail. So you can get on the monorail there at the Polynesian and travel all around the circle and you can see the front gates of the Magic Kingdom. You can go past the Grand Floridian. You can go past the Contemporary. So that's super fun, just to ride the monorail and to get some great pictures of the Magic Kingdom and that sort of thing. You can also take boat rides to and from, so you could take boat rides to the Magic Kingdom and back and and all this is totally free. The Polynesian also has some fun things to do for the kids. So sometimes they'll hold little events. I remember our daughter got to do the limbo and played with a bunch of kids there at the Polynesian they also have movies that they have out on the lawn at night. So if you want to grab a Dole Whip, that is one place where you can get a Dole Whip float. It's one of my favorite things to get at Disneyworld. So you can grab a Dole Whip, you can go out to the beach on the Polynesian, you can hang out there you can watch that movie on the lawn or, and this is our favorite place to watch the fireworks. You can watch the fireworks at night from the Polynesian without all the crowds while you eat your Dole Whip. And you can also see that electrical water pageant. You can watch that go by so it is really a fun thing to do. If you're not gonna hang out at the parks, and you want that Disney Magic, go to the Polynesian. Hang out on the beach and watch that the electrical pageant and watch the fireworks.
JOHN: So that brings us to Disney's Boardwalk. I'll never forget the first time that I saw the boardwalk. And actually it was very recently. We were on a previous trip. We were at Epcot, and we thought that we would go ahead and leave the park and we got in the boat and it took us to the Boardwalk. I had no idea that there was such an amazing, really amazing, resort right there so close to Epcot. And so that's something that I would encourage all of you to do. Just visit the Boardwalk. You could take a ride on a Surrey bike. That's a covered bike with two to four people and you ride around the entire perimeter of the property, around the lake, drive by shops and restaurants and just just so fun and beautiful. Now I'll tell you this that you need to work your leg muscles out just a little bit before you get on that thing. We had no idea, we were enjoying our nice little adventure around the circle, and then all of a sudden there was a hill and, wow, was that thing hard to get up! And so we got all the way around and I'm like, wow, okay, I'm tired, and I'm done. And Amy said, let's do it again! And so off we go again and we huffed and we puffed and had a great, great time. So that was really, really a lot of fun. From there you can take the boat, as I said, and you can gaze into Epcot. I don't know about you all, but sometimes for us, we just like to see things and see the magic. And you can do that. You can see the Eiffel Tower and the different things there at Epcot without actually paying to get in. Additionally I'd encourage you to go over to the Swan and Dolphin resorts. We had a milkshake there at a cafe. Really, really good employees. The service was great. They took such great care of us. And it's a beautiful, beautiful property there. And then we walked around and walked by the swimming pools and there was a playground. And our daughter loved to play on the playground and had a great time there, at the Swan and Dolphin Resort. In fact, also right in that area and on the boardwalk you're gonna see street entertainers. You can just kick back and enjoy music and the different things that are happening there on the street. And, speaking of street entertainers, head on over to Disney Springs. We have her daughter, she was involved in this hula-hoop thing where all the kids were out there and Disney cast members were kind of conducting the event and she was hula-hooping, and it was a little party atmosphere there. And we'd walk around and we'd see magicians and mimes and bands. A lot of fun and, of course, peek in the stores and go shopping and just have a great, great time just immersing yourself in that Disney environment. It can be absolutely free or definitely cheap.
AMY: One more thing we decided to do on our "Disney on a budget trip" was to visit Chef Mickey's. Now Chef Mickey's is a buffet. It's character dining at the Contemporary Resort. I will say that it is not cheap, and it is definitely not free, but it is sure a heck of a lot cheaper than getting into the parks and paying for all the food there and going to meet all the characters in that way. So what we did is, we made in a reservation at Chef Mickey's. We got there, the food is really good. It's a buffet. And so we got to eat pancakes and, I'm gluten free, and so I got to eat some gluten-free Mickey waffles which were awesome. A lot of breakfast foods, but really the treat here is getting to meet all the characters, and the staff is very, very good and making sure you get time with every single character that's there. So our daughter was so excited to meet Mickey and Goofy and Donald and Minnie and she just had her special time there with them. And that is something that you can do if you decide you want to be able to meet all the characters and you want a little bit extra of that Disney magic but you don't mind shelling out a little bit of money for that, or actually maybe more than a little bit.
AMY: I hope we've given you some ideas on ways to experience the magic of Disney on a budget.
JOHN: And stay tuned for future videos. I'm sure on future trips we're going to discover a lot more that we can do cheap, on a budget, free and so we're gonna share that with you. In order to be notified of future videos, definitely click that subscribe button and then click the bell so you can receive that notification every time we upload a new video. So thanks for watching and we will see you again next time.
AMY: Safe travels everyone!