Posts Tagged 'dogwood canyon'
Dogwood Canyon Nature Park | A Branson Vacation Must Do!
John and Amy take you on a tour of the absolutely stunning Dogwood Canyon Nature Park near Branson, Missouri!
Check out the prices, the tour options, dining and much more!
Experience the beautiful waterfalls, trails and caves as John and Amy jump on their bikes and capture the wonder of Dogwood Canyon!
Without a doubt, along with Silver Dollar City, Sight and Sound Theater, Smoke on the Mountain and, of course, Escape Code, Sagas Mysteries and The Axe Game (John and Amy's businesses!), Dogwood Canyon Nature Park is a MUST DO when on vacation in Branson, Missouri!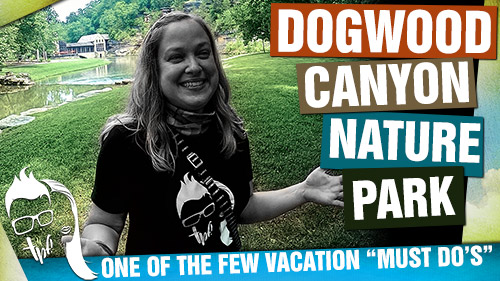 VIDEO TRANSCRIPT:
This is Amy with TPS! Trips, Places and Fun! Today we're at Dogwood Canyon Nature Preserve. This is owned by Johnny Morris, the same guy who puts on Top of the Rock and the Wonders of Wildlife Aquarium and all those cool places, and this place is no exception. It is amazing. It's beautiful here. So we're just going to kind of give you a little tour.
All right, so we're here at what they call the Glory Hole here at Dogwood Canyon. Man this is amazing! It's so beautiful. There's a waterfall, and just pan around there. Amy take a look, this is just amazing, phenomenal, beautiful. If you are anywhere near Branson, get out here to Dogwood Canyon. I'm sweating. We've been riding our bikes, uphill basically, so I think on the way back we're gonna go downhill. But on Amy's bikes she has a little bell which reminds me, subscribe and ding that bell so you can be notified the next time, I'm out of breath, the next time that we are out doing something fun like this here at Dogwood Canyon.
We hope you enjoyed this. Safe travels everyone!
Looking for the perfect date night (or day) activity for couples? 
Branson is full of fun choices for couples to enjoy on vacation!
While families and children have a blast here in the Ozarks, couples can have just as much fun!
Of course, in addition to all of the other exciting places in Branson, Escape Code is a perfect attraction for couples to enjoy together! 
Here's a list of some of the best attractions for couples in Branson, Missouri: