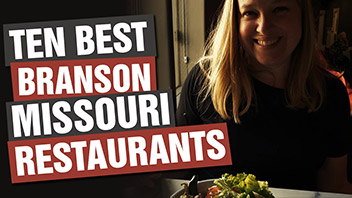 Featuring your business on the TPF! YouTube channel can be a fun and effective new way to let travelers know about you!
John and Amy have a lot of fun, are engaging and are excited about the continued growth of the TPF! Travel Plus channel.
As the owners of Escape Code and The Axe Game in Branson, Missouri, they are well aware of the benefit of effective and authentic marketing. 
Keep in mind, your featured video won't only be seen once, on day the video is uploaded to YouTube. YouTube is the world's second largest search engine, Google being the largest. When visitors to Branson search for things to do in the area, our video will be available for them to watch directly on YouTube.
Your business's info will be included in the description of the video and in the keywords as well.
After watching a recent video or two, consider if you think John and Amy might be good spokespeople for your business, and then get in touch! 
Partnerships are FREE! Learn more about how it works below.
HOW IT WORKS
A large percentage of the videos TPF! produces are focused on travel to the Branson, Missouri region. A smaller percentage are about various travel destinations that John and Amy visit or more general travel videos, such as tips and tricks, how to's and best of's.
You can invite John and Amy to your attraction, restaurant or other business and they will film as they enjoy what you have to offer! The entire video will be devoted to your business from the time they walk through the door until the event is over. Other business won't be featured along with yours (unless you request we do it that way.)
Since authenticity and integrity are important to John and Amy, they will only promote businesses, services or products that they truly believe in. They are huge fans of all things Branson, and truly appreciate businesses big and small. But, if they don't truly appreciate a particular business, they will kindly decline the partnership request.
There is no fee associated with partnerships, however there are a few requests and requirements:
John and Amy will need to receive complimentary admission to your attraction or a complimentary meal at your restaurant. If we are reviewing a product, we will need to receive one at no cost. If we are enjoying a service, it must be complimentary as well. Simply, no out of pocket cost should be required. 

If this is a business that is kid-friendly, John and Amy reserve the right to bring their children with them at no cost, unless specifically requested that they do not.

While not required, it would be beneficial if John and Amy could interview the owner or one of the managers or leaders at your business.

John and Amy will need permission and flexibility to record throughout your property. If there is a place you'd prefer they don't record, please let them know up front.

Depending on the venue, they may use a GoPro or other camera throughout the attraction including on rides. If this isn't appropriate for safety reasons, please communicate that up front.

Businesses requesting a video will placed on a waiting list if John and Amy believe the opportunity is a good match. Every partnership opportunity is considered but not all are accepted.
SPONSORSHIPS
Another option for your business is in the form of sponsorships. John and Amy will feature your business for at least sixty seconds on a future video. Partnerships and sponsorships can also work very well together. Learn more about sponsorships HERE.
If you would like more info or would like to become a partner, fill out the form below.
We look forward to working with you!