✈️🎡😃 Branson Snow Tubing | Snowflex at Wolfe Mountain | POV | GoPro | Best Branson, Missouri Attractions
Branson Snow Tubing | Snowflex at Wolfe Mountain | POV | GoPro | Best Branson, Missouri Attractions
John and Amy head out to one of Branson's best attractions, Snowflex at Wolfe Mountain!
Ride along as they grab the GoPro and head down the mountain! This all season snow tubing adventure is BIG FUN! Add their incredible zipline package and you are in for a full day of thrills!
#snowflex #branson #tubing #travel #adventure #vlog #trips #vacation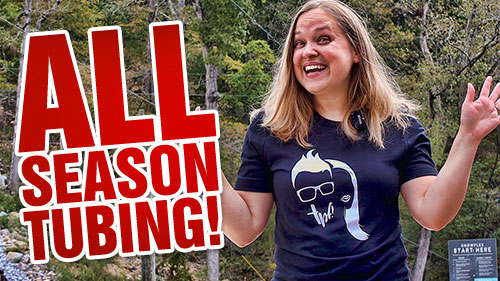 📸 CHECK OUT OUR MOST RECENT VIDEOS!
https://www.youtube.com/channel/UCuGo-TN5WXmjuA953Gb9Ltw/videos
❤ Be sure to SUBSCRIBE to this channel for THRILLING and exciting TRAVEL videos!
https://www.youtube.com/tpftraveladventures
✈️🎡😃TPF! Travel Adventures: Trips, Places and FUN!
John and Amy share tips and ideas on how to have fun and exciting travel adventures!
TPF! Travel Adventures regularly highlights attractions in Branson, Missouri, Orlando, Florida along with cruises and many other travel destinations!
👕 PICK UP SOME TPF! TRAVEL MERCH!
T-Shirts and MORE!
https://teespring.com/stores/tpftravel
👍BECOME A TPF! SUPPORTER!
Join the community and support TPF! by supporting us through Patreon! Give anywhere between $1 and $50 each month!
https://www.patreon.com/tpftravel
✉ WE LOVE MAIL!
You can send us stuff! We love mail, packages, fun gifts, travel mementos and other fun items! We'll open them in an upcoming video!
Send them to our business address:
Escape Code
4560 North Gretna Road
Branson, Missouri 65616
Looking for the perfect date night (or day) activity for couples? 
Branson is full of fun choices for couples to enjoy on vacation!
While families and children have a blast here in the Ozarks, couples can have just as much fun!
Of course, in addition to all of the other exciting places in Branson, Escape Code is a perfect attraction for couples to enjoy together! 
Here's a list of some of the best attractions for couples in Branson, Missouri:
Branson is growing and new attractions keep coming!
While we at Escape Code LOVE the old favorites in Branson, we also get excited when new attractions come to town! 
Some of the favorites continue to develop and have added new experiences to their already phenomenal offerings.
Escape Code has added a BRAND NEW adventure called VORTEX, new for 2018. A powerful storm that has produced a violent tornado is moving toward Branson. You must find shelter fast and call for help!
Here's a list of some of the new opportunities for fun in Branson, Missouri: