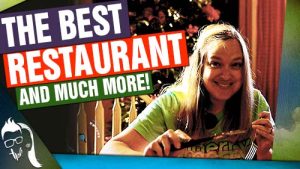 Best Restaurant at Silver Dollar City AND a Christmas Tour of the Park!
Wow! This meal was INCREDIBLE! We experienced Reunion Hall's Christmas all-you-can-eat feast. A carving table with prime rib and ham along with other delicious holiday foods made it a can't miss place to eat!
We also tour the park, get wax hands made, see the beautiful lights and Christmas tree, ride The Flooded Mine and MORE!
Cruise Ship Buffet | Are Buffets Going Away?
Are buffets on land and sea going away? John discusses some news from Royal Caribbean's Windjammer and shares some thoughts on one of the favorite parts of life, both when cruising and on land – buffets!
Some don't prefer the Windjammer or other cruise buffets, and others can't stand the thought of hundreds of other people touching tongs and spoons. Still others absolutely love the variety that buffets offer, especially when cruising.
Just what changes are coming to buffets? What thoughts do you have?