Posts Tagged 'branson christmas show'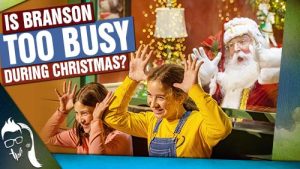 Branson Christmas | Is it TOO BUSY?
The crowds are INCREDIBLE and it takes careful planning to ensure you have an AMAZING time on your Branson and Silver Dollar City Christmas vacation.
I go over several tips to help you enjoy both your stay in Branson and your time at Silver Dollar City.
How to avoid the crowds, how to drive around traffic and more!
Branson Christmas | Plan Your 2020 Fall & Christmas Branson Vacation
John and Amy talk all about what's coming to Branson for the 202 Fall and Christmas season!
They recorded this video from their favorite Branson attraction, Silver Dollar City! They take you around the park as they discuss where to eat in Branson, shopping, shows, attractions, Silver Dollar City itself and much more!
Before planning your Branson Christmas vacation, watch this video AND leave comments about your favorite holiday things to do in Branson, Missouri!
00:00 Fall and Christmas in Branson, Missouri
03:03 What is Coming to Branson During the Holiday Season 2020
04:04 Where to Eat in Branson During the Holidays
06:10 Christmas Shows in Branson
07:36 Silver Dollar City Christmas
10:31 Branson Christmas Attractions
12:14 Branson Adoration Parade
12:42 Branson Shopping