Posts Tagged 'family vacation'
✈️🎡😃Cruising With Kids | Royal Caribbean | Cruising with Family | Family Cruise Tips #familycruise
John and Amy are in rare form as they share some important considerations when cruising with kids!
There are key differences between cruising as a couple (or even solo) and cruising with kids, and John and Amy break some of them down for you here.
They are headed to Galveston, Texas in two days for their next cruise on Royal Caribbean Enchantment of the Seas, and they will be bringing the kids with them!
///TIME STAMPS///
02:22 Multilple Staterooms
04:39 Travel Insurance
06:57 Excursions
10:27 Youth Programs
12:01 My Time Dining
13:20 Kid Friendly Ship
16:09 Low Cost Vacation
#cruisetips #travel #family #adventure #vlog #trips #vacation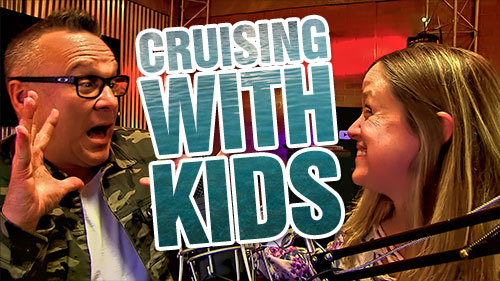 📸 CHECK OUT OUR MOST RECENT VIDEOS!
https://www.youtube.com/channel/UCuGo-TN5WXmjuA953Gb9Ltw/videos
❤ Be sure to SUBSCRIBE to this channel for THRILLING and exciting TRAVEL videos!
https://www.youtube.com/tpftraveladventures
✈️🎡😃TPF! Travel Adventures: Trips, Places and FUN!
John and Amy share tips and ideas on how to have fun and exciting travel adventures!
TPF! Travel Adventures regularly highlights attractions in Branson, Missouri, Orlando, Florida along with cruises and many other travel destinations!
👕 PICK UP SOME TPF! TRAVEL MERCH!
T-Shirts and MORE!
https://teespring.com/stores/tpftravel
👍BECOME A TPF! SUPPORTER!
Join the community and support TPF! by supporting us through Patreon! Give anywhere between $1 and $50 each month!
https://www.patreon.com/tpftravel
✉ WE LOVE MAIL!
You can send us stuff! We love mail, packages, fun gifts, travel mementos and other fun items! We'll open them in an upcoming video!
Send them to our business address:
Escape Code
4560 North Gretna Road
Branson, Missouri 65616
Top things to do in Branson, Missouri
When enjoying a family vacation, friends night out or a date with the love of your life, it's helpful to know what the top things are to do in the city your are visiting.
The team at Escape Code loves the variety of entertainment in Branson, Missouri. Of course, we are biased, but we really do believe Escape Code is most definitely one of the top things to do when traveling to Branson, Missouri!
In fact, it's not only us who is excited about the adventure at Escape Code. Read these reviews from some of the guests to our escape room:
This was by far the best escape room we have been to. The boys loved starting the Revenge mystery blindfolded and handcuffed. ~Diane
The Escape Code staff members were fun and professional. The room set up was fantastic! The props used were authentic looking and set the scene beautifully. If you are looking for an activity that your entire family or group can enjoy, Escape Code will not disappoint! ~arkgator
One of the coolest things to do in Branson! ~Madelynrylee
SO MUCH FUN!  My husband and I had such a great time doing the first room, we went back to do the other 2 the same week!  Well worth the price and the most fun we had while we were in Branson. I'd give 5 stars and a high recommendation to go if you're looking for an escape room (or just a fun time out) anywhere close to here! ~Danica
So much fun! Definitely in the top 2 attractions that we did while on our vacation! ~playacarprincess
Above all other Branson attractions, this is a must do! We had so much fun racing the clock to escape our room! Its very well thought out and is an absolute blast! ~Josh
I absolutely love escape rooms, and have been entertained from USA to Greece – this is BY FAR the nicest, best organized, well thought out experience yet!  Great fun that you will keep talking about for hours after!!! ~Carey
This was the highlight of our trip and we couldn't stop talking about how fun it was!! This was our first time to do an escape game and we really didn't know what to expect. However, this turned out to be an absolute blast and we can't wait to go back! This will be as high on the list as Silver Dollar City, just because it is something you don't see everyday!! ~LeighAnn
Of course, there are many other amazing places to visit in Branson when you are on your vacation!
Here's the short list of some other attractions that we love to visit ourselves.
We couldn't end this article without adding them to the list of top things to do in Branson, Missouri!
LEARN MORE about one of THE TOP THINGS TO DO IN BRANSON, MISSOURI—ESCAPE CODE, and book your room NOW!