Posts Tagged 'ropes course'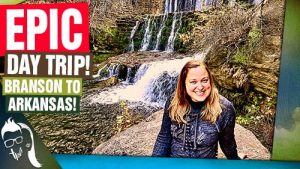 Mountain View Arkansas | Epic Branson, Missouri Day Trip | Blanchard Springs
Wow! John and Amy ran into some INCREDIBLE surprises on a day trip from Branson, Missouri to Mountain View, Arkansas!
Blanchard Springs is stunning, Loco Ropes was intense and the Ozark Folk Center State Park was…ummmm…closed. Closed before it was supposed to be!
They traveled five hours round trip on Amy's birthday just to see the Ozark Folk Center State Park, but they decided to close over a week early! They got to peek in the windows though!
ADVENTURE PARK and Spooktacular! Shepherd of the Hills in Branson, Missouri
The Burtons love the fall season, cool weather, harvest festivals and FUN…nothing dark or scary…just good ole family FUN!
You will LOVE this ULTIMATE tour of the Shepherd of the Hills park including the ADVENTURE PARK!
The kids ride the Vigilante Extreme Ziprider, climb a rock wall, tackle the ropes course, paint pumpkins, run through an obstacle course and MUCH MORE!