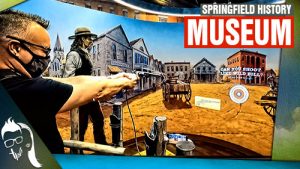 Things To Do In Springfield Mo | Springfield History Museum
John and Amy check out USA Today's #1 new attraction in the nation, the Springfield History Museum!
A quick trip from Branson, Missouri, the Springfield History Museum is located downtown on the square in Springfield, Missouri. This stunning new museum is huge fun for all!
Carthage Missouri | Precio
us Mom
ents Chapel, Red Oak 2 and MORE!
John and Amy take you on a fun and exciting tour through Carthage, Missouri. One of the STRANGEST PLACES they have ever visited is here, and you won't want to miss watching them experience it!
They also visit Precious Moments Chapel, A Taste of Italy Italian Restaurant, Route 66 Drive-In, Boots Court Motel, the Civil War Museum and MORE!
00:00 Intro
01:28 Precious Moments Chapel
10:09 Taste of Italy
11:49 Civil War Museum
12:29 Crossroads Loft
14:04 Downtown Carthage
15:49 Boots Court Motel
16:22 66 Drive-In
18:44 Red Oak II