NEW RIDE AT SILVER DOLLAR CITY! Behind the scenes: Mystic River Falls and MORE coming 2020!
NEW RIDE AT SILVER DOLLAR CITY! Behind the scenes: Mystic River Falls and MORE coming 2020!
John and Amy were at the media day at Silver Dollar City for the HUGE ANNOUNCEMENT of a BRAND NEW RIDE that will open during the summer of 2020!
INFO ABOUT MYSTIC RIVER FALLS:
Mystic River Falls, itself a $23 million investment, will be a River Adventure that is themed to the history and legend of the great Marvel Cave, which was the catalyst for Silver Dollar City six decades ago.
Riders will splash through nearly a half-mile (2100') scenic journey, navigating hairpin turns, high tides and a hidden mine shaft on more than a 5-minute trek.
Plus, Adventurers will discover industry-leading special features: – 82' Tall Lift Tower River Adventurers will ascend a more than 8-story lift tower, exposed to the open air as their rafts rotate during the climb!
The rotation elevator lift of 4 platforms is unique to this ride and will be the only one like it in the world to go up so high.
More than 6-Story Elevated River Channel, 180' Long The rafts will connect to an elevated river channel suspended in the air 66' high and travel within the channel for 180 linear feet.
A Grand Finale Waterfall of 4.5 Stories of Thrilling Adventure! Racing down and through the ride's queue building, River Adventurers will brave the Mystic River Falls finale… The Tallest Raft Ride Drop in the Western Hemisphere 4.5 Stories to The Wettest Splashdown in the Park's 60-Year History!
Mystic River Falls will be the highlight of a new themed area of the park, Rivertown, where 1880s townfolk are caught up in a high-spirited celebration, representing Silver Dollar City's Diamond Jubilee.
The all-new Rivertown Smokehouse, the largest dining investment in the corporation's history, will serve the park's famous BBQ plus new favorites, providing 450 viewing seats along the banks of the Mystic River. (Investment $4 million)
#silverdollarcity #mysticriverfalls #newride #travel #family #adventure #vlog #trips #vacation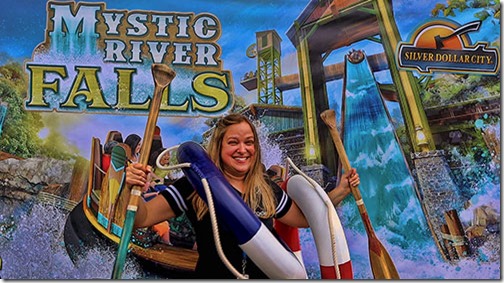 BECOME A TPF! SUPPORTER!
Join the community and support TPF! by supporting us through Patreon! Give anywhere between $1 and $50 each month!
https://www.patreon.com/tpftravel
WE LOVE MAIL!
You can send us stuff! We love mail, packages, fun gifts, travel mementos and other fun items! We'll open them in an upcoming video!
Send them to our business address:
Escape Code
4560 North Gretna Road
Branson, Missouri 65616
TPF! Travel Adventures: Trips, Places and FUN!
John and Amy share tips and ideas on how to have fun and exciting family friendly adventures!
TPF! Travel Adventures regularly highlights attractions in Branson, Missouri, Orlando , Florida along with cruises and many other travel destinations!
Be sure to SUBSCRIBE to this channel for THRILLING and exciting TRAVEL videos!
https://www.youtube.com/channel/UCuGo-TN5WXmjuA953Gb9Ltw
OUR GEAR & SERVICES:
TubeBuddy
https://www.tubebuddy.com/tpf
Rode Wireless Go
https://amzn.to/2Z6DZCp
Rode VideoMic Pro+
https://amzn.to/2KxPKh9
DJI Ronin SC Gimbal
https://amzn.to/2Z3nZkp
Canon M50
https://amzn.to/31Bn5NB
DJI Osmo Pocket
https://amzn.to/2VxwJim
GoPro HERO7 Black — Waterproof Digital Action Camera with Touch Screen 4K HD Video 12MP Photos Live Streaming Stabilization
https://amzn.to/2HYrL9W
Samson G-Track Pro Professional USB Condenser Microphone with Audio Interface
https://amzn.to/2QDai7Q
Samson SP01 Spider Shockmount
https://amzn.to/2pHC5Zk
MAONO AU200 Dual Lavalier Microphones
https://amzn.to/2pL0xsT
EACHSHOT 4-Ring V2 Cold Shoe Adapter Ring for Zhiyun Smooth 4 to Rode Microphone Mount
https://amzn.to/2pLQtjv
Rode VideoMicro Compact On-Camera Microphone with Rycote Lyre Shock Mount
https://amzn.to/2A0DFvC
Zhiyun Smooth 4 3-Axis Handheld Gimbal Stabilizer
https://amzn.to/2pHCP0y
InnoGear Heavy Duty Microphone Stand with Mic Microphone Windscreen and Dual Layered Mic Pop Filter Suspension Boom Scissor Arm Stands
https://amzn.to/2IJpzRT
LimoStudio Photography 2300W Digital Video Photo Studio Softbox Light Kit
https://amzn.to/2ypKC7j
Novation Launchpad Mini USB Midi Controller
https://amzn.to/2pL1Ckr
Canon VIXIA HF G20 HD Camcorder with HD CMOS Pro and 32GB Internal Flash Memory
https://amzn.to/2QCfYPv
NewTek TriCaster Mini HD-4 All In One Compact Multimedia Production Studio
https://amzn.to/2A1cgd2
DISCLAIMER: This video and description contains affiliate links, which means that if you click on one of the product links, I'll receive a small commission. This helps support the channel and allows us to continue to make videos like this. Thank you for the support!