Posts Tagged 'bicycle touring'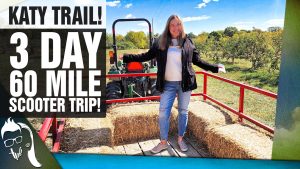 Katy Trail | 60-Mile Scooter Trip! St. Charles, Missouri to Hermann, Missouri
Join us for an INCREDIBLE ADVENTURE on our Segway G30 Max scooters on a 60-mile stretch of Katy Trail!
We started in St. Charles, Missouri and stopped for the night in Augusta, Marthasville and Hermann . You have to see the AMAZING unique places we spent the night at each stop!
We then took the Amtrak back to St. Charles and are already thinking about tackling the remaining 180 miles someday soon!