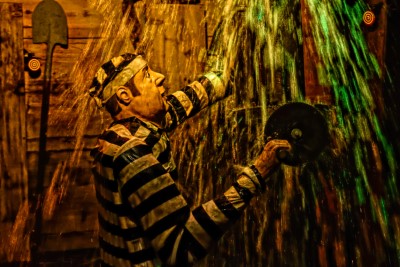 Where and how to beat the heat in Branson, Missouri
It seems the pleasant, cool seventy-degree afternoons in Branson were with us just yesterday. As season pass holders, my wife Amy and I would walk around Silver Dollar City several days a week just to enjoy the atmosphere, watch the shows, listen to some music and smell the amazing aromas, all without breaking a sweat. Oh, how times have changed.
Enjoying Branson in our new reality of mid to upper nineties takes some thought and planning to ensure we are cool and refreshed while we have the vacation of our lives.
Silver Dollar City
No vacation is complete (in our not so humble opinion) without a visit to the nation's number one theme park. As one of this beautiful park's top fans I must admit that the roasting heat can make a trip there much less comfortable. With shade trees battling with acres of burning blacktop the mission to remain cool is a challenging one indeed. 
We have a few tips that will help make your visit much cooler and more enjoyable. 
Did you know you can receive free ice water from most food and drink vendors? There's no need to haul around a cooler full of water bottles or even spend a dime to remain hydrated. Just ask for free ice water, and if that place doesn't offer it they will be glad to point you in the right direction.
If you do plan to bring along a cooler then, by all means, load it up with ice cold drinks. While you are at it throw in some snacks. We have to stop short of recommending hauling your homemade lunch around the park as we absolutely love the various food options that Silver Dollar City offers. But, you do you!
Of course, riding the water rides will cool you down in a splash. Mystic River Falls, The Great American Plunge and Tom and Huck's River Blast are great ways to stay cold and wet. Indoor rides like Fire in the Hole and the Flooded Mine are nice and pleas
Especially days that are both very busy and very hot it's best to arrive as early as possible. Start your day well before rope drop and enjoy a delicious breakfast and watch the inspiring opening ceremony. The air is cooler and the lines to your favorite rides will be very temporarily shorter when the park officially opens. If you are less rushed and want to sleep in or take in other Branson attractions during the day, consider a later afternoon arrival. The last few hours of the day are typically cooler and less busy.
Lastly, the sixty-two degree Marvel Cave is a can't miss when visiting. This is a tour that will cool you off as you venture deep under the ground.
Water Parks
Of course nothing beats the heat like water slides, lazy rivers and wave pools. White Water is Branson's premier water park and your entire family is sure to stay icy cold as you splash around pools and shoot down slides.
Branson has several other watery options including Splash Country Indoor and Outdoor Water Park and the little known yet inexpensive and very nice Branson RecPlex. 
Float Trips
Within thirty to ninety minutes from Branson you will find some beautiful rivers to float. One of our all-time favorite things to do in this area is a four to six hour float on the Buffalo National River in Arkansas. You'll shift from a slow cruise underneath massive bluffs to zipping through mild rapids. Of course, there are constant opportunities to stop and swim, have lunch and relax. 
You can also consider the James River in Missouri if a float trip is your way to beat the heat.
The Lakes
Rent a pontoon boat on Table Rock Lake and spend the afternoon investigating, swimming, fishing and tubing. Table Rock State Park and other local resorts and arenas offer a variety of vessels including ski boats and jet skis. You'll want to reserve early (weeks in advance) as boats are limited.
Lake Taneycomo is a cold water lake, and while it might be tempting to jump in when triple digits are searing your body, it's not a lake meant for swimming. However, the ice cold water does provide a bit of natural air conditioning if you'd like to kayak, boat or spend time along the shore.
Indoor Attractions
A clear and obvious answer to evading the heat while on vacation in Branson are the many amazing indoor attractions. From places like Wonderworks, Beyond The Lens and the Aquarium at the Boardwalk to escape rooms, axe throwing, interacting with butterflies and incredible music shows, it's easy to have loads of fun while keeping the temps crispy cool.
As one of America's top vacation destinations it's well worth it to visit Branson, Missouri no matter the weather. Planning ahead and considering your options will help ensure your visit is fun and refreshing for the entire family.