New Things Branson Needs | New Attractions, Restaurants and Shopping We Need in Branson, Missouri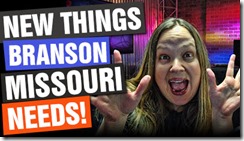 New Things Branson Needs!
John and Amy reveal their ideas for exciting, new attractions, restaurants, shopping and other fun things that should come to Branson!
Some of their ideas include dark rides at Silver Dollar City, a minor league baseball team, Kalahari and Cheesecake Factory!
#branson #attractions #travel #family #adventure #vlog #trips #vacation
WATCH HERE: https://youtu.be/79ZSyALweQ0