TPF! TRAVEL with John and Amy is the place for FUN vacation videos, articles and ADVENTURES!
People LOVE TPF! Travel!
Through watching Tpf's videos, we planned one of our biggest, best vacations in Branson as a family last June! We chose to do the Track in Branson from watching Tpf's video "FUN things to do on THE STRIP in BRANSON, MISSOURI". This was the first time for my family and I to be back in Branson for over 13 years so we were unsure of what we exactly wanted to do. Their videos really encouraged us to do this and we had a AWESOME time! 
Abigail
TPF! Travel has been my go to for news and updates on everything new in Branson. Every time I visit Branson I do something I learned about through a TPF! video. Thank you John and Amy for all the hard work you do to give me better vacations.
Arthur
We spent about a year researching approximately 5 possible retirement destinations. We moved here this past November after seeing your videos.
Ev
We planned 100% of our last family vacation to Branson from recommendations from TPF. It was the greatest trip! Food choices at SDC we're so helpful and made our visit great! We keep watching for new adventures there in Branson and new places! Love the channel!!!
D Main Garden
We chose to go to the Local Flavor restaurant because of your video and we were NOT disappointed! I spent several hours researching your channel in anticipation of going to Branson as my in-laws had been many times. This was a TREMENDOUS help to our trip!
Jamie
We planned our vacation this year based on your videos. You have very detailed videos that help with any subject such as the day we are scheduled to be at Silver Dollar City it is going to rain and your recent weather video lessened our worries on if we would still have fun with the not ideal weather. Thanks for doing what you do and I'll always be watching to learn something new!
Theme Park and Event Archive
We go to Branson 2 - 3 times per year. We tried Local Flavor after watching your video. It was great and has become our favorite restaurant in Branson.
Lorraine
I have watched your channel for a long time. We've been regular visitors to Branson even longer. I find your information incredibly accurate and honest. I would recommend any business, attraction, or entertainer to use your channel to their benefit.
Steve
We enjoy watching your videos because you're genuine and provide great insights into all things Branson. We have gone to a few restaurants based on your suggestions because we know we will get a complete review and be entertained while we experience those places through your visit.
Bryan
My family has 3 trips planned to Branson this year, first one in just days and we've been binge watching TPF for the best Branson tips! We decided, after watching your channel, to visit 3 restaurants we would've never tried otherwise. Danas BBQ, Sugar Leaf and Local Flavor.
Gigi
After watching TPF I will choose to go to Ramata Italian on the landing. I live locally, so I will probably choose to take my family in the off season, or a weekday. I watch your videos to help me make choices about where to spend my money, because seeing is believing.
Matty
I am planning a vacation to Branson for our family for September and have been binge watching your videos as I plan. We are excited to stay at Still Waters Resort and visit Top of the Rock, Silver Dollar City, and the Sight & Sound Theater because of your videos.
Lovin' Life's Journey DIY
We chose to go to the Sliver Dollar City food fest cause your reviews on the lanyard and different dishes you reviewed.
geekgirl101
Watching your videos we have tried several restaurants in Branson you have suggested. Including several at Silver Dollar City.
angelstar
TPF's cruise videos have helped in our decision to take a cruise this May on Royal Caribbean. We are also looking at a vacation to Branson in the next year or so.
Steve
I love all of your videos! Because of your Norwegian Cruise videos, I am looking into booking a cruise that has the Xenses excursion!
Sweet Jaybaby
I chose to buy 2022 season passes for Silver Dollar City and plan 3 trips to Branson because of TPF Travel. This September I will be going to Top of the Rock, Dogwood Canyon, and the aquarium because of your videos. I had never heard of Top of the Rock and I would have never considered looking into it without watching your video doing the golf cart tour. Dogwood Canyon I have always heard about but never went because I thought there was other things to do but your video amazed me and made me plan going. 
Amber
Your channel has renewed my interest in coming to Branson. I chose to take our family to the Sight and Sound theater, because of your channel. 
Melissa
We chose to go to Top of the Rock golf tour next week because of your video. This will be our 4th trip to Branson and we just love your suggestions.
Samantha
My family is from Indianapolis, and we chose to go to Branson, MO for vacation because of the videos on this channel. We had 5 days there and did all of these based on the recommendations and videos from this channel. Wonders of Wildlife Aquarium, Sight & Sound Jesus, Top of the Rock Golf Cart Tour, Fun Mountain, Wonderworks & of course Silver Dollar City.
PJ B
We are going to try the food pass lanyard at SDC because of your reviews. We have tried a couple of restaurants because of your videos. We are planning on trying Fuel our next visit in May and checking out Beyond The Lens.
Amanda
We chose to get the dining passport at SDC after TPF video over it.
Screaming Pete
We chose to come back to Branson and Silver Dollar City BECAUSE OF TPF.
Shirley
 Watch a recent TPF! video! 
About TPF! Hosts John and Amy Burton
Somewhat normal people who love to travel...and who have learned a few things along the way.
John and Amy have five amazing children, one dog and an exciting history that includes authoring books, starting escape room and axe throwing businesses, planting churches and, as a result, traveling a lot!
Connecting with them through articles on this site and their YouTube channel will help you discover some of their favorite places and attractions. You will also learn some great tips that will save you money and help you experience some relaxing, thrilling and FUN trips and vacations.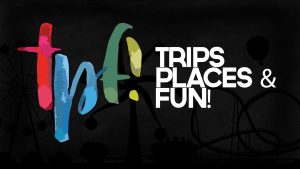 Top 10 Things to do for families and kids in Branson Branson is a premier family vacation destination. There are many exciting adventures for kids and the entire family here! It's tough to limit the fun to ten attractions the team at Escape Code loves, but we compiled a list of ten of our Branson favorites that children of all ages will enjoy. It goes without saying that Escape Code is a favorite of families and…
Read More