Brand new tasting passport at Silver Dollar City's Bluegrass and BBQ Festival!
Is the new Tasting Passport at Silver Dollar City Worth it? Yes!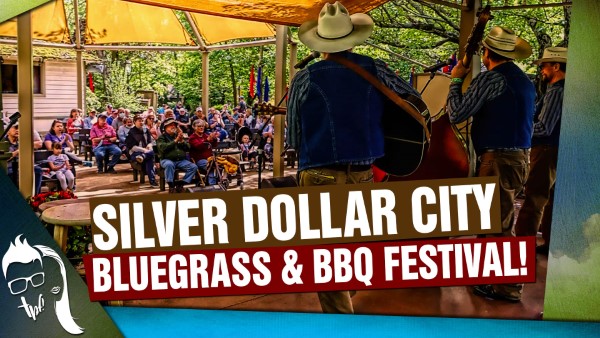 After trying out Silver Dollar City's Tasting Passport during the recent Street Fest and Dollywood's Dining Pass during their Flower and Food Festival, we were excited to see if Herschend Family Entertainment could outdo themselves.
The could. They did.
For $30 you receive a badge and lanyard that provides you many delectable options to choose from. At Dollywood you find a QR code on the Dining Pass that hangs around your neck. While a quick scan opens up an informative website with all of the food items and their locations in the park, we found Silver Dollar City's method preferrable.
Every option was printed clearly on the badge, or as Silver Dollar City calls it, the Passport. Additionally, everything could be seen in larger print in the Pathfinder, Silver Dollar City's free newspaper and park guide. 
Opening day of the festival gave us perfect weather to walk the park and enjoy a great variety of bluegrass music and non-stop, diverse aromas as we passed by all of the various food stands and restaurants. 
While we enjoyed our day at Dollywood recently, we didn't prefer the majority of the Dining Pass stops to be located in one section of the park. We found ourselves aimlessly wandering the nether regions of Dollywood wondering when we might stumble into a kiosk. It wasn't until we moved back toward the front of the park that we found the food.
At Silver Dollar City it's an entire park experience. The cooks are joyfully and artistically creating their edible masterpieces at every corner of the park. Whether you are on Main Street, by the Grand Exposition, near Mystic River Falls or down by Fire in the Hole, temptations abound.
The only time we had to ask for directions was for the last punch of our passport. I was desperately seeking a BBQ bacon mac and cheese waffle cone, but didn't know to look right on Main Street for the kiosk. A wonderful Silver Dollar City citizen pointed us in the right direction and before long I was devouring a waffle cone made out of fortune cookie batter filled with a curious and mouth watering mix. 
Our favorite item of the day was probably the barbecue tater twist dog. It was truly amazing, and the portion size was large.
The Tasting Passport is not meant to be a meal replacement, but rather a fun and adventurous sampling of new and unique foods. While the idea is for each item to be snack sized, if you plan your day of tasting carefully, you'll find some samples are larger than others. In fact, like our tater twist dog, some are full sized.
We'd recommend considering eating a full meal at lunch and also purchasing a single Tasting Passport that can be used throughout the day for snacks and desserts. Between the two of us both times at Silver Dollar City and also once at Dollywood we purchased only one Passport and shared each of the five items. This worked great for us and we weren't at all hungry doing it this way. Of course, if you are zeroed in on treats others in your family are not, then you'll be very happy securing one all for yourself.
So, is the Tasting Passport worth it? We can't answer for everybody, but for us the answer is a resounding yes!
It does seem as if the portion sizes have increased some from the previous festival, which is great.
This time around we didn't get any desserts on the list. It took every ounce of restraint to say no to the temptations that were all around. Suffice it to say the desserts were our favorite foods the previous two festivals here and in Tennessee. My mouth is watering just thinking about them.