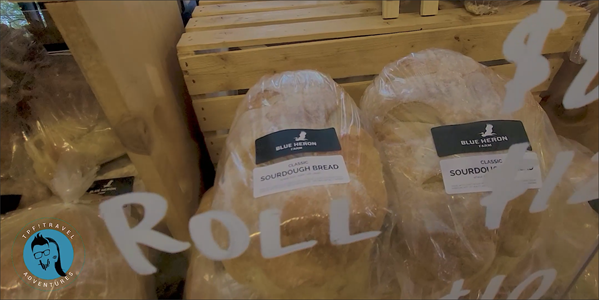 A Springfield Must See: Farmer's Market of the Ozarks
A festival of food, flowers and fun in Springfield, Missouri!
As travel vloggers based in Branson, Missouri, we are always looking for something fun and unique to do. Over two years into our endeavor, one would think we'd be running out of things to do and see in the region. We have covered loads of attractions and restaurants in Branson specifically along with other places of interest near and far. 
It's hard to believe this extremely popular and very well done farmer's market didn't ping our radar much sooner. It's truly amazing!
Located at the Farmer's Market Pavilion at 2144 E. Republic Road, the Farmer's Market of the Ozarks is easily accessible even though it sits hidden, tucked back behind a hotel. Once you zig and zag down some side streets, you'll know you are in the right place on a Saturday morning when you see throngs of people joyfully darting about. 
Food trucks lined the entry way outside of the pavilion as did several booths. Surrounding the market was Aviary Cafe and Creperie, a barber shop, other upscale businesses and a roaming banjo player that made the experience all the better.
As is true for most farmer's markets, much of the enjoyment comes from engaging with the various business owners and employees who manned the booths. There's something about good ole' fashioned American entrepreneurship and ingenuity that feels healthy and right. The energy in the environment was palpable and we couldn't help but cheer for the smash success of every business represented.
Aside from the social aspect there was, of course, food! Flowers! Crafts! Goodies of all types!
Whether you want to try some honey sticks (as we did), pastries, jerky or kombucha, or find some farm fresh eggs, meats and other staples to take home, the Ozark's Farmer's Market is the place to be!
Our favorite experience of the day was street corn at the Corn Hub booth. Various concoctions of corn on the cob were prominently displayed and resistance was futile. We chose the barbeque adorned option and found a picnic table outside to savor our snack. Suffice it to say it was absolutely delicious. I can't recommend it enough. It would do you well to head down to the Farmer's Market Pavilion this Saturday and get an ear or two. The owners are great and their passion for their business is obvious.
As entrepreneurs ourselves, it was hard not to celebrate the festive atmosphere filled with fellow dreamers. 
Even if you have no plans on purchasing anything, head on out for a visit. Enjoy the music, smell the aromas, meet some new friends and take notes for future visits. However, I'll warn you, window shopping is all but impossible. The enticing nature of the market will probably overwhelm you, and that's a very good thing. Whether it's duck meat, dog chews, smoothies, egg rolls, fresh and organic vegetables, kettle korn, banana bread, T-shirts or all flavors of honey, among many other options, you most certainly will give in. 
The Farmer's Market of the Ozarks is open Saturdays from 8am until 1pm. In the winter, January through March, they are open 9am until 1pm. How great is it that Springfield, Missouri has a year around farmer's market? Really great!
If you are in the Branson area, they have a market there 3pm until 7pm on Tuesdays from April through October. We haven't visited that one yet, but we plan on it very soon!
For more information about Farmer's Market of the Ozarks, visit their website at www.loveyourfarmer.com. 
Have you visited Farmer's Market of the Ozarks? Leave some comments and share your experience!